HAPPISBURGH
Possibly one of the first involvements of the people of Huddersfield paying for a lifeboat.
The RNLI established a Lifeboat station at Happisburgh in 1866; the Lifeboat house was built on the cliff top costing £ 189.
The boat THE HUDDERSFIELD, was paid for by the people of Huddersfield.at a cost of £406, arrived here in August of that year.
She was a 32 foot self-righting type pulling ten oars. Near disaster struck in 1884 when she went to the aid of the schooner Edith of Padstow, wrecked just offshore. As Huddersfield approached the vessel she was swept across its deck. The shore party manned a rope and succeeded in pulling her off, but overturned, throwing out the crew. Two swam ashore and the remaining eleven managed to regain the boat.
HUDDERSFIELD 2 was a replacement in 1887, also provided by the town of Huddersfield.
THE JACOB AND RACHEL VALLENTlNE, the last offshore boat, was sent to Happisburgh in 1907. She was named as desired by the donor. Mr Vallentine, a prominent member of the Jewish community in Brixton. In his will he requested that a lifeboat be stationed on the East Coast within one year of his death.
In 1926 the RNLI decided to close the Happisburgh station. It was thought that the motor lifeboat at Cromer could cover this area adequately, and the Jacob and Rachel was moved to Sea Palling.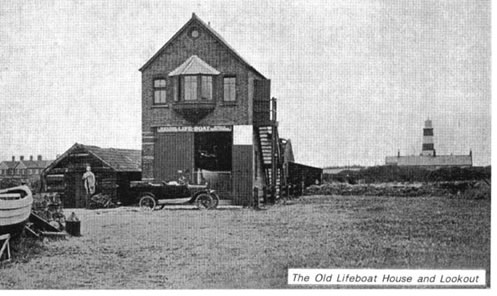 Launching the Old Lifeboats
The Lifeboat Crew was called out by a runner shouting, "Ship ahoy!" This cry summoned horses from neighboring farms as well as men, for their help was needed to launch the boat. Two horses pulled the boat-carriage down the Gap while the crew and onlookers hauled on ropes behind to act as a break. Six more horses were hooked on, with a single horse leading, to take the boat into the sea. To avoid sending the animals into very deep water, they were shackled on to the back wheels of the carriage. The hardest work was pulling the boat back up to the Lifeboat House, and for this two more horses were used, making ten in all. Eight horses were generally used at a practice.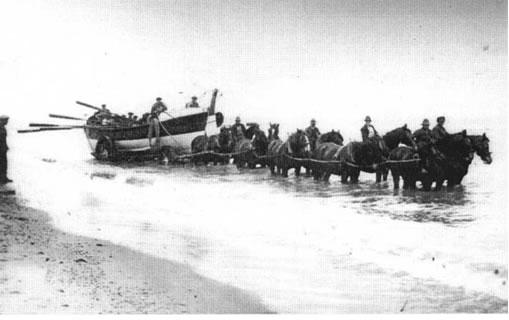 PICTURE – Preparing to pull the Jacob and Rachel Valentine back to the Lifeboat House.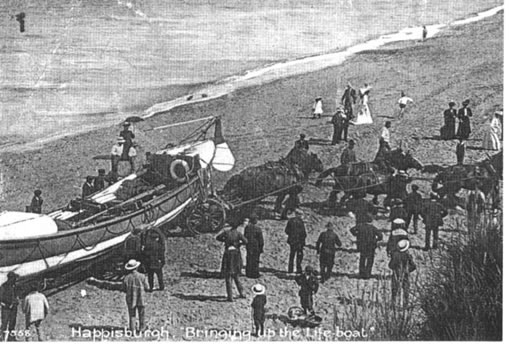 PHOTO – Happisburgh, 'bringing up the boat'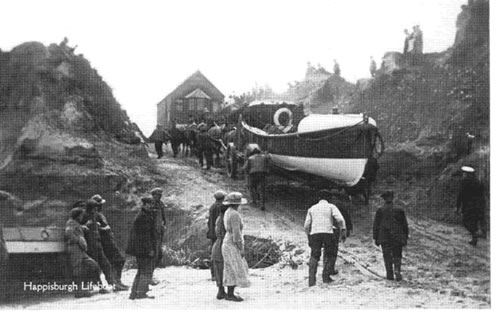 A practice launch was carried out four times a year. The August Bank Holiday launch attracted a crowd of visitors as well as local people, and was an important event in village life
Mr William Wilkins was in charge of the horses at every launching from the opening of the station in 1866 until his death in 1890. His service was recognised by the R.N.L.I. with a gratuity of £5 to his widow.
PHOTO The August Bank Holiday launch.