£645 raised at the Christmas market
The Honley & Brockholes Branch of the RNLI attended Honley Christmas Street Market on the 3rd December 2016 raising £645, the branch wish to thank all those who went to support the charity for their generosity.  The branch also would like to thank Honley Business Association for their hard word in greatly publicising the event. 
Thank you.
Everyone goes 'Wild' at the Irish Murphy's night!
Honley & Brockholes Branch secretary, Mr Tony Watson and his wife Avril organised a fundraising event for the RNLI starring 'The Wild Murphy's' the best Irish band never to come out of Ireland. The live Irish music concert which was held at St. Pauls Church Hall, in Shepley, coupled with a raffle made an amazing £686 for the RNLI.
Many thanks to all concerned for their support and hard work.
*****
Cash Boost for RNLI from Honley Feast 2016
It was a lovely sunny day with a wonderful array of entertainment in the background, whilst some branch members and friends worked hard on the RNLI stand. We introduced the young ones to Storm force membership (good value) and Stormy Stan, stormed around the grounds in raging heat. We made £250 for RNLI to help to save lives at sea, inland and lifeguards. The lucky Winner of boat raffle was Andy Daniel from Honley with No. 390.
Huddersfield to Whitby and back in 4 days
with 20 Vintage Tractors!
pictured outside Whitby Lifeboat station with some of
the crew, raising an impressive
£2153.14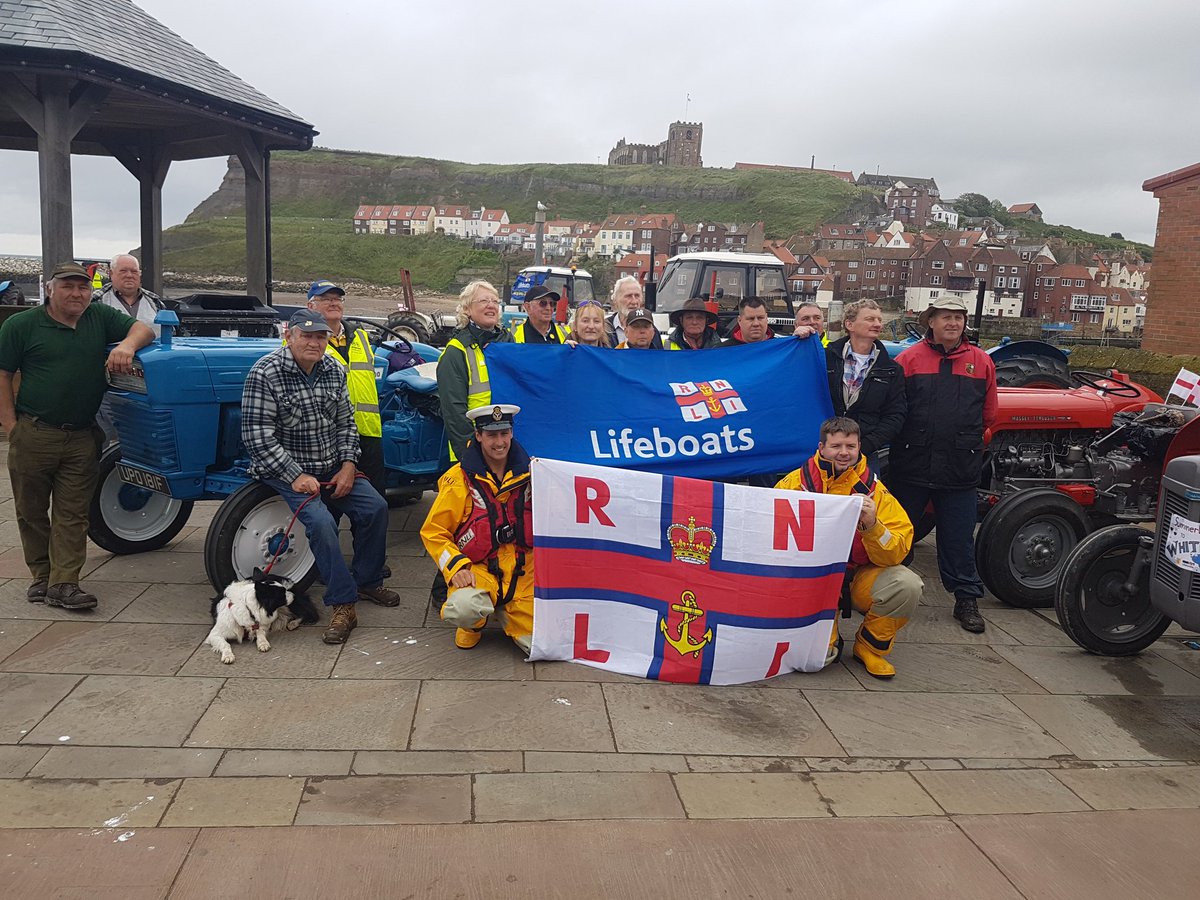 Fundraisers drove vintage tractors 220 miles to fund raise for RNLI raising £2153.14.
A group of fundraisers decided to undertake this vintage tractor run to raise funds for the  R.N.L.I. rather than the usual fund raising activities; they put their trust in their vintage tractors to cover about 220 miles in a few days! They were certainly visible out on the roads but don't worry, they did not hold you up intentionally. Starting 3rd July at 9am from Denroyd Farm in Upper Denby, Huddersfield with the Mayor of Kirklees coming to see them off and wish them luck on their travels. They then travelled through Garforth to Tadcaster, Boston Spa, Little Ouseburn to Easingwold for their first overnight stop. Pressing on next day (4th July) to Crayke, Hovingham, Nunnington, Hutton Le Hole, circumnavigating the infamous 1:3 Chimney Bank steep hill (!) to Rosedale, over Egton Bridge and towards Grosmont towards Ruswarp, arriving at North Pavillion, Whitby to the home of the R.N.L.I. lifeboat station. Overnight in Whitby and starting at 9am on the 5th July, on their return journey back from the Whitby Lifeboat Station. The Mayor of Whitby came to wave them off, as well as Mike Russell, Coxswaine of the Whitby Lifeboat and wish them well for their return journey, heading towards Grosmont back to Easingwold for another overnight stay and finally arriving back in Upper Denby, Huddersfield on  the 6th July.
– – – – – – – – – – – – – – – – – – – – – – – –
Honley Show 2016
The Honley & Brockholes Branch of RNLI attended Honley show 2016 informing and entertaining the public through Model Lifeboat display & information boards, having Stormy Stan to greet the children. We also ran two raffles, one for a remote controlled model lifeboat won by Carl Wagstaff, and a floral arrangement donated by "Dawn's school of floral art" which was won by Tony Swann and presented by Chairman
Maurice Littlewood.
The branch would like to thank all who called at the stand to gain knowledge or donate money for RNLI;  we made about £350 on the day which is greatly appreciated and will go a long way to saving lives at sea and inland; also we hopefully made some friends.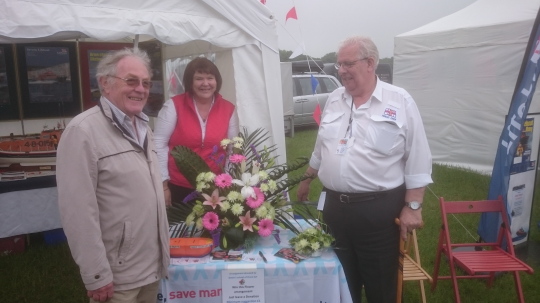 Pictured from the left are Tony Swann (winner of Flower Arrangement),

Dawn T. Meakin (Made & Donated Arrangement),

& Maurice Littlewood (Branch Chairman).