New lifeboat named after ex-commodore on Wednesday 04 July 2007
One of the RNLI's newest and most advanced life-boats at the time was named after a former commodore of Scarborough Yacht Club.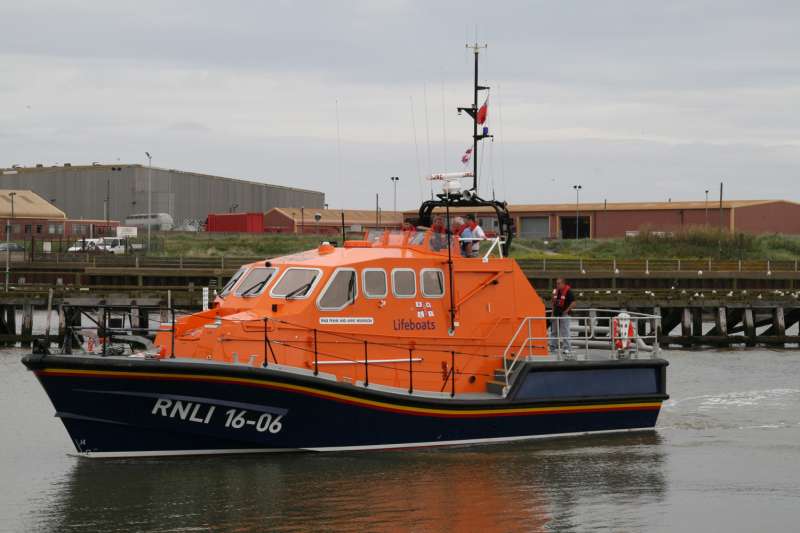 MONEY left by a generous couple will save lives after they funded a new lifeboat.
Now the RNLI lifeboat will be named after the couple, Frank and Anne Wilkinson, who lived in FIXBY, HUDDERSFIELD and were keen sailors.
It has been largely paid for by a legacy left by Mrs Wilkinson when she died in 2004.
Her husband, Frank, died 11 years before and had owned a car showroom and garage business.
He founded Hebble Auto Services Ltd on Bradford Road, Huddersfield in 1953 and was managing director for many years. The firm was sold off to car dealers Carnell for £2m in 1989.
He was a private air pilot for over 25 years and enjoyed motor bike trials and car rallying. The couple had no children.
The £2.5m Tamar class boat was officially named in a ceremony in Scarborough, It took place at the North Wharf at 2.30pm.
The couple had a yacht which they sailed out of Scarborough and Mr Wilkinson was Commodore of Scarborough Yacht Club. The couple competed several times in the club's North Sea Race from Scarborough to Holland.
The lifeboat will be named by one of the executors of Mrs Wilkinson's estate, Peter Gudgin, who knew the couple for 50 years.
He said: "Frank and Anne loved sailing and the sea and were very fond of Scarborough. They had great admiration for the RNLI and their volunteer lifeboat crews and it was Anne's great desire to fund a lifeboat.
"They would both be absolutely delighted with the result of the legacy and by the fact that the lifeboat is being named in Scarborough."
The other executor of Mrs Wilkinson's estate, Neville Sheard, formally handed the lifeboat over to the RNLI and it was accepted by Gilbert Gray QC, vice-President of the charity.
Coxswain of Scarborough RNLI lifeboat, Tom Clark, proposed a vote of thanks at the ceremony.
Gilbert Gray, who knew Mr and Mrs Wilkinson, said: "Frank and Anne were devoted to each other and were only parted by death. Now, however, they are together again in this splendid Tamar class lifeboat which is a wonderful legacy of their life together and their love of the sea.
"We at the RNLI are reliant on donations and legacies for all the funds we need to provide our lifeboat service and without the amazing generosity of people like Frank and Anne we would be unable to carry on saving lives at sea.''
The Frank and Anne Wilkinson will be a vital part of the RNLI's relief fleet, operating temporarily at lifeboat stations around the UK coast when a lifeboat has been damaged on service or needs regular maintenance work.
The Tamar is the RNLI's latest class of all weather lifeboat and is bigger and faster than its predecessor. It is the most technologically advanced lifeboat ever to be produced by the RNLI and is the result of several years of research and development by the charity to produce the next generation of slipway-launched lifeboat.
Constructed from fibre-reinforced plastic to combine strength with light weight, the Tamar has a top speed of 25 knots. It has also been designed with crew safety the top priority.
The Tamar's on-board information management system means crew members can monitor and control the lifeboat's systems via computer screens without leaving their seats. This ensures crews can be seated for more of the time and so are less likely to be thrown off balance and hurt in rough seas.